I don't think I'm like most runners.
I only enjoy running up until a certain point.
The addiction? Not here.
Most of my running friends are planning another marathon right now.
Me?
I'm counting down the days until its over.
Don't get me wrong, I love it. I really, really do.
The idea of crossing the Boston finish line brings me to tears.
But it's at this point in training where I am just dunzo.
I'm through dedicating 8-10 hours of my week running and stretching.
I'm tired of wearing running clothes all the time.
I'm just ready to take the 30-day post-marathon break.
I may be particularly whinny because I also think I've messed up my Achilles Tendon.
I've never had a running injury. Never.
Runner's Knee. Been there. Iced that.
Sore neck. It happens. Take a long, hot shower.
But never an injury.
This past long run, my Achilles Tendon began aching around mile 13.
By mile 15 I had to stop and stretch, which was really hard because I was right by my house.
I wanted to just stop, but getting to 18 miles was a HUGE goal of mine.
Coincidentally, I checked by phone to find a message from my Dad.
That man is my biggest cheerleader, and it was at that point that I knew I had to finish.
The last three miles weren't pretty.
In fact, they were sort of pitiful.
I was able to maintain my sub 10-minute miles, but there was limping involved.
I'm also positive that my face looked like this: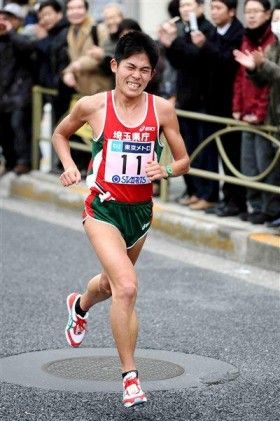 Which is very similar to this:
Of ALL photos from the 2012 Boston Marathon,
my dear father bought two 8x10s of that photo.
One he gave me framed for Christmas.
The other is hanging in his high school classroom,
where he can point and say, "Look at my daughter! Isn't she just stunning?!"
I really just want Boston to be here already.
Not because I want all the hype over with,
but I'm an instant gratification type of gal.
I want to taste the glory already.
Please send healing vibes over to this silly Achilles.
Also, if you can speed up time, that would be greatly appreciated.
Aaaaand, of course, if you are interested in donating, you will be the coolest.