Kellyn Gowen: Yes You Can Meet the Members of the Team Hoyt Boston Marathon Team
Use your

← →

(arrow) keys to browse more stories
Next
Both marathon fans and simply fans of the human spirit alike are more than likely to know the story of Dick and Rick Hoyt. The father/son team who make their home in scenic Holland, MA will be running in their 30th Boston Marathon this April. This in itself is a truly amazing accomplishment.
The milestone is made 26.2 times more amazing by the facts that the elder Hoyt, Dick, is 71 years old, and that his son, Rick, who will be celebrating his 50th birthday in January, has spent his life in a wheel chair and lives each day as a spastic quadriplegic with cerebral palsy, the result of oxygen deprivation at birth. Dick pushes Rick in a wheelchair for each step of the 26.2-mile event to the delight of the millions of adoring fans who know their inspiring lifelong adventure.
Like they do each year, Dick and Rick Hoyt have assembled a team of runners from Australia, Canada and around the country who comprise The Hoyt Foundation 2012 Boston Marathon team.
The team will be running to raise money for the Hoyt Foundation, a 501(c)(3) charity whose purpose is help integrate disabled people into everyday activities so they may live fruitful and productive lives.
Over the next several months, I will be introducing many members of the 2012 Team Hoyt Boston Marathon Team and sharing their motivating stories and experiences as members of this inspirational group during the continuing series entitled, "Yes You Can Meet the Team Hoyt 2012 Boston Marathon Team."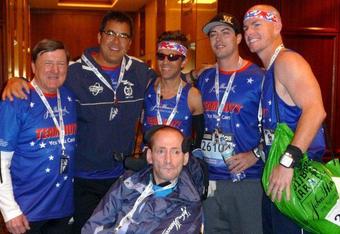 Members of the 2011 Team Hoyt Boston Marathon Team raised over $120,000 for the Hoyt Foundation
Kellyn (Shuck) Gowen will be running not only her first Boston Marathon, but the first 26.2 mile event of her life when the gun sounds to mark the beginning of this April's 116th Boston Marathon. Perhaps like many of the thousands of athletes who will be crossing the finish line that day, Gowen will be running light in her sneakers, motivated in her heart and highly inspired in her reasons for running. Though Kellyn Gowen has never traveled the 26.2 miles from Hopkinton to Boston, in many ways, life has been a marathon.
In many ways Kellyn Gowen and her younger brother, Ryan's story is much the same as that of Dick and Rick Hoyt. Two beings entering the world with a clean slate. Beginning lives that are expected to be filled with hope and dreams and promise. Stepping into an unblemished existence and then by chance or fate or circumstance the course that was carefully mapped out is forever affected. And such is life.
As the 26-year-old mother of one from New Orleans shares on her inspirational blog
Running for Ryan
, "My parents were in an auto accident with my brother 28 years ago. He was 18 months, and was left with a permanent disability, much like Rick Hoyt. As difficult as struggling with a physical disability is, my brother, Ryan Shuck, showed no fear. He endured nearly 30 surgeries, played in a challenger baseball league, and learned to drive with one hand and one foot."
Gowen continues in her extremely moving essay that gained her entry as a member of the prestigious Team Hoyt Boston Marathon Team, "As if high school isn't hard enough for the typical pimple-faced teen, Ryan spent a good amount of these formative years in a body cast. While my sisters and I jumped, tumbled and flipped on the cheer leading squad, Ryan did his best to stay as involved as he could in sports. He went to every football and basketball game, becoming the basketball stats recorder. He graduated and went on to obtain a bachelor's degree from University of Tampa in Sports Management."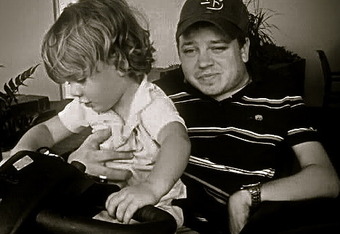 Ryan Shuck sporting his Tampa Bay hat and enjoying life as " The Mayor"
"Ryan now lives in a small, swanky part of Tampa Bay referred to as SoHo, where he has been crowned "The Mayor" due to his always expected appearances at the local diners and joints. Everyone knows him by name. Ryan spends his extra time selflessly helping others in need by volunteering at the Ronald McDonald House. Every time I walk around with Ryan, it is clear that his presence has affected the lives of those around him."
So while Gowen will, of course be running to raise money for the Hoyt Foundation and to raise awareness for all disabled people hoping for inclusion in the everyday world, she will also be running in honor of her own real-life superhero, Ryan. As fate would have it, Dick and Rick Hoyt's 30th Boston Marathon event coincides with the 29th anniversary of Ryan's accident.
Gowen, an editor for MerchantCircle, is over joyed at the thought of being included amongst the nearly three dozen runners that will make up this year's Team Hoyt Marathon Team. "Unbelievable. I kid you not, ever since I received the news, I have not had a night where I haven't dreamed about meeting the Hoyts and my teammates. I dream about myself crossing the finish line in Boston. When I run, I sometimes tear-up at how incredibly happy I am to be doing this. Also, when my mother reminded me that this race falls on my brother's accident anniversary, I just knew that this is what I was meant to do."
Her longest competitive run to date is a half-marathon she ran in February of 2011 in an impressive time of 1:56:28, but despite her relative lack of experience she utilizes her training time to enhance her every day life and to put life's challenges into perspective. "Sometimes I run to escape my house; to drop the June Cleaver act for an hour. It takes that hour to put into perspective how much I really do cherish the life I have. I love being a wife and mother. So running is a mind cleanser."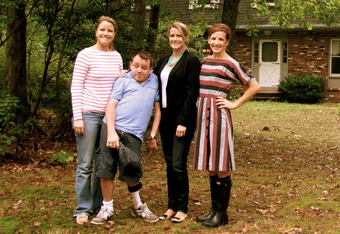 Kellyn Gowen, brother Ryan Schuck and family live each day with a Yes You Can attitude
The ever-enthusiastic Gowen shared a perhaps less honorable reason that she is relishing becoming a member of the Team Hoyt pack. "It allows me to eat enormous amounts of pasta and garlic bread—which is something I've missed dearly since pregnancy. Currently, I don't want to stop running. I like the way I see myself; I like my mood; I again like the pasta and carb-intake ... it's a lifestyle that I could get used to. So I suppose it enhances several aspects of my life."
The Team Hoyt mantra, of YES YOU CAN is something that both Gowen and brother, Ryan, utilize each and every day as they both overcome their own personal obstacles, no matter how big or small they may be. "Well, I think that any mother would agree that Yes You Can plays a huge factor in the lives of their children regardless of their condition. You always want the best for them. Life and its fulfillments became a huge priority for me as a parent. I want my children to live life to the fullest."
She adds, "I especially want that for Rick Hoyt and my brother. I want those who are able-bodied to understand how special that statement is for folks like Rick and Ryan. As a sister to Ryan, I found it incredibly infuriating that people stare at him or refuse to include him. As an adult, I find it even more infuriating that other mothers allow their children to do so. Ignorance is not always bliss. It is my long-term goal to raise as much awareness about the special lives of these incredible individuals so that people not only understand, but raise awareness themselves by teaching their children. I want my efforts to be contagious."
To date, Gowen has raised $1,800 towards her goal of $6,000 through personal donations from family, friends and supporters on her Crowdrise page and also by selling beautifully crafted and colorful aprons which can be purchased from her Running for Ryan Blog. I guess this is Kellyn Gowen's way of hoping that she can really "clean up" for Team Hoyt and for her inspirational brother, Ryan.
Friends, fans and supporters of Kellyn Gowen can help her achieve her fund raising goal by clicking on her Team Hoyt Crowdrise page. Todd Civin is a Senior Writer for Bleacher Report. Unless otherwise noted, all quotes were obtained first-hand.