Training with a newborn has been... um... challenging.
Just like doing anything with an infant, there are times where I feel like a super woman.
Like when my child is super awesome during an adult event and everyone is all "Wow, you have such a good baby!" and I'm like, "Yeah, it's because I totally know what I'm doing and could write a book."
And then there's moments where I feel like a totally incompetent loser of a mom.
Like when we're leaving said adult event and my infant is screaming unconsolably while we have to walk by what seems like thousands of people to get to the car. And meanwhile your other kid wets his pants and you need to find a bathroom without him seeing that Santa is seriously right. next. to. the. bathroom. And then you realize that your infant has lost her socks, and it's 30 degrees, and the blanket you had to bring because it's the cutest just doesn't cover as much as it should.
Those moments I'm like, "Yeah, I have absolutely no idea what I'm doing."
(
pop
.... that was me opening a bottle of wine.)
My training has been similar to this.
There have been ups, like when I was only 5-weeks postpartum and did 5 miles at a 13-minute pace in "feels like" 8 degree icy weather. I felt like a champion.
Then there are moments when you're supposed to be speed walking 3 miles and this happens: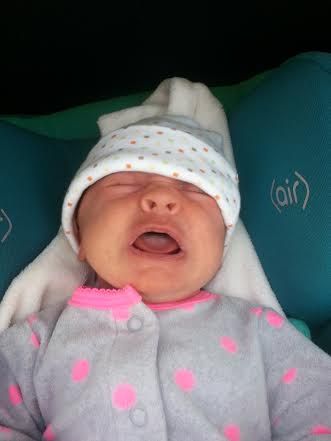 And then you find yourself pulling over and nervously nursing your baby in front of a total strangers house on their sidewalk. And your Run Keeper is still talking you, "Average Pace: 15 minutes...." "Average Pace: 18 minutes..." "Average Pace: 20 minutes."
And while I really want to scream at my phone and the talking exercise app and kick said neighbors garbage can, I knew that wouldn't do any good.
Because just like parenting, sometimes you just need to take a step back, take a deep breath, and re-evaluate. So, we made lemonade out of lemons: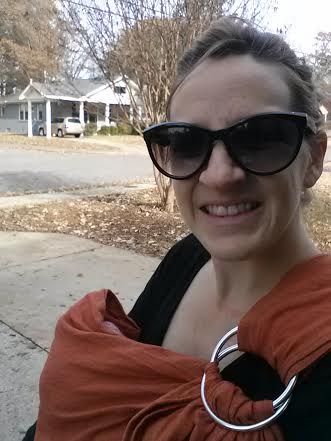 Cuteness alert:
And our next training walks were a success: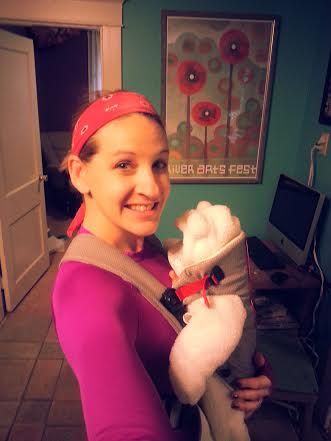 My Run Keeper now congratulates me on my daily PRs.
So, yes, just as everyone and their mother warned me about when I said I was going to train for a marathon just weeks after having a baby, training with a newborn is challenging. It's hard. But as my husband reminds me frequently, I knew it wasn't going to be easy.
And really, I don't do anything that is convenient or easy, which is why I found myself at that adult party half naked nursing my child on a balcony because I had to wear a tight dress that zipped up the back. It was far cuter than the dresses that buttoned down the front.
But it's all good, because how else would I learn new things?
The next challenge on the list: speeding up and teaching my body to totally run again. I only have four months to figure it out... oh yeah, and raise $4,025. I can handle the milage, but your donation would be incredibly appreciated! Click
HERE
to donate to my crowdrise page!
Boston Marathon Countdown: 127 days.